Nedbank Running Club dominates the Comrades Marathon 2019
Edward Mothibi – A star of the future
Running in only his second Comrades Marathon after finishing 4th on debut last year, Edward 'slender' Mothibi cemented on Sunday the fact that he is one of the best ultra-distance runners in the World by taking victory in the 94th Comrades Marathon which was run between Durban and Pietermaritzburg.
With all eyes on defending champion Bongmusa Mthembu who was going for his 4th victory, Mothibi bided his time in the main pack as the runners went through Pinetown and started the climb up Fields Hill. "Early on, my plan was just to relax as much as possible and not use up any energy that was not needed in the first half," said Mothibi after the race. With a light drizzle and a lot of mist, unusual for a Comrades up run, the main pack went through halfway in 2:45:11 which by now consisted of 18 runners.
As they made their way up the notorious Inchanga climb, the bunch caught and passed race leader Tk Moshwetsi who by now had taken his vest off and was standing on the side of the road. It was here that the pretenders to the crown were starting to show as Mothibi and training partner David Gatebe moved to the front and started to throw in some surges to test the mettle of the others in the pack. "We did discuss with David before that the pace must be consistent, so when we saw the guys are slowing down on the hills, we would go to the front to keep it honest."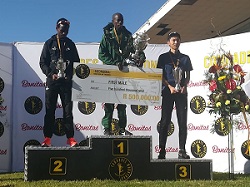 Keeping the pace honest it was, as by the time the runners made their way through towards Cato Ridge, the pack was reduced to 5 as Nedbank athlete Justin Cheshire Kemboi making his debut, threw in a big surge together with teammate Joseph Manyedi and soon it was down to 4. As the runners made their way through the undulating section towards Camperdown, Mothibi and Mthembu went ahead and were matched for stride. Cresting the top of little Polly's Mothibi went ahead on the long downhill towards Polly Shorts and quickly opened a gap of around 25 meters. It was short-lived however as a strong looking Mthembu caught up and passed Mothibi on the foot of Polly Shorts.
It was at this moment that looked certain that Mthembu would get a 4th victory as no man had ever reached the top of Polly Shorts in the lead and then lost the race. Mothibi though, had other plans. With a new spring in his step, Mothibi started to close in again on Mthembu and by the time a quarter of the way up Polly Shorts had come, Mothibi and Mthembu were stride for stride again. That moment though was brief, as Mothibi pressed on hard and crested the top of the long climb almost 20 seconds ahead of Mthembu. The last 8km featured a lot of downhill and continuously looking behind for Mthembu, Mothibi made his way to the Scottsville race course.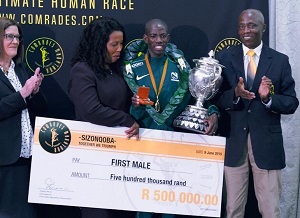 With the crowd going wild, a new Comrades champion was going to be crowned and Mothibi crossed the line with arms in air finishing in 5:31:33, a scant 25 seconds ahead of Mthembu. "I am so so happy to win this race! Bongmusa is from Kzn so everyone was cheering for him, but I just tried to focus on myself and gave it everything I had." Asked what he would do with his prize money which totals close to R1 million, Mothibi with a smile on his face said, "The first thing is I am paying off my bond because athletics is a very short career." A wise man who no doubt with 2 Comrades starts that consist of a 4th place finish and now a win, will become a Comrades icon in years to come.
Behind him, Nedbank team mates had brilliant runs with Manyedi getting his first Comrades gold in 5th place and Kemboi hanging on for 7th, the first time a Kenyan athlete has finished in the top 10. A very fast finish saw Henry Ansio claim 7th on debut with a brilliant run by Marko Mambo who turns 48 this year, 8th bringing the total tally of Nedbank golds to 5 in the top 10.
The Nedbank team had a successful day out at the 2019 Comrades Marathon and look forward to next year's event.
Gerda Steyn rewrites the record books
Sunday 9 June 2019 will always be a day that Nedbank running club athlete Gerda Steyn will never forget. Not only did she win her first Comrades Marathon, but also smashed Elena Nurgalieva's 2006 course record of 6:09:24 by becoming the first woman in the history of the race to run the up run from Durban to Pietermaritzburg under 6 hours with a time of 5:58:53.
After narrowly missing out on Frith Van der Merwe's Two Oceans course record back in April, there was lots of talk of the ladies' course record falling at Comrades this year, however many also pointed out that Steyn had run too hard at the Two Oceans race, spoiling her chance for victory at Comrades. "I know so many people were saying that I ruined my chances for Comrades but truthfully I still ran within myself and I knew deep down I hadn't done any damage for Comrades," said the always smiling Steyn.
Starting off in perfect conditions, last year's down run winner Ann Ashworth took the race out as she crested the top of the hill through Sherwood, 8km into the race, 15 secs ahead of Nedbank's defending up run champion Camille Herron with Steyn at this stage another 30 sec back. Going through Pinetown and beginning the climb up Fields Hill, Steyn moved into 2nd as Herron started to
show a few difficulties. It was in Kloof, 2 hours and 10 minutes into the race where Steyn caught and passed Ashworth. It was still early days, yet Steyn found herself in the lead. "Last year I spent too much time listening to my watch and heart rates and I feel it messed my run up so this year it was all about running to how I felt and not what the watch was saying."
Going through halfway, Steyn crossed over the mat in 3:02:13, which indicated that a course record was on. Behind her, Nedbank athletes Caitriona Jennings and Dominika Stelmach who were both running their debut Comrades came through the halfway mark in 4th and 5th, already 3 minutes down on Sten. Herron by now had dropped back to 6th and shortly after would unfortunately pull out, ending her chances of defending her up run title.
Through Camperdown and the 57km mark, Steyn started to increase her pace and was still looking very fresh. Jennings by now had moved into 2nd but now was 4mins back. The question on everyone's minds now was not whether Steyn could hold on to win, but by how far she could smash the record as with every passing km, she was getting faster and faster, at some stages running 5:45 Comrades pace and starting to pass many of the elite males.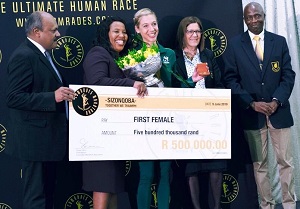 As she crested the top of Polly Shorts, it was evident that we were about to witness history as the projected finish time showed a sub 6-hour clocking. By now Steyn had worked her way up to 22nd overall in the field and was knocking on the door of the top 20 as she powered her way to Scottsville. With her hands in the air and that famous smile, Steyn crossed the line in an out of this world 5:58:53 and an amazing 17th position overall. "I am over the moon! I came here with a goal to win and I visualized it from the very beginning." When asked what her goals would now be after whispers of this being her last Comrades before she attempts to run a faster marathon and a possible Tokyo Olympics next year, Steyn smiled. "After today I'm definitely going to have to rethink it all. I owe so much to this race and it's been a dream come true today."
Behind Steyn, Jennings held on for a brilliant 3rd place finish on her debut. The Irish Olympian showed signs of a clear struggle a long way out from home but gritted her teeth to finish on the podium. Stelmach hung on for 5th place with another debut athlete Catrin Jones from Canada finishing 9th in 6:52:44 to give the Nedbank team 4 ladies in the top 10.
Gerda Steyn not only won the 48th "up" run, but achieved the following milestones:
- She became the first woman ever to cover the distance between Durban and Pietermaritzburg in under 6 hours when she crossed the finish line in 5:58:53.
- She won by 18 min 47 sec, the biggest margin over second place since the race became an international event (Frith van der Merwe won by 45:58 in 1991, when the ultramarathon was still a purely South African affair).
- Her time is the fourth fastest in history, surpassed only by the "down" run performances of 5:54:43 by Van der Merwe (1989), 5:58:25 by Ann Trason (1997) and 5:58:50 by Tatyana Zhirkova (2005).
- She is only the fourth woman who have won the Two Oceans and Comrades in the same year, after Van der Merwe (1989), Elena Nurgalieva (2004 and 2012) and Caroline Wöstmann (2015).
- She finished 17th overall and became the first woman in the history of the race to win more than one million Rand in prize and incentive money.